Damsels and Dragons at Elmdon Park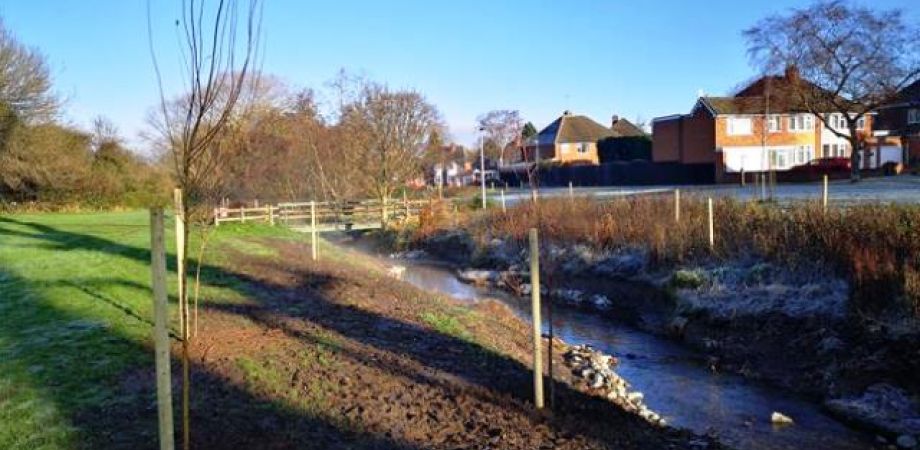 Alongside the main Wildlife Ways programme, lots of smaller programmes have been developed as part of the Wildlife Ways / Greater Birmingham and Solihull Local Enterprise Partnership's Habitats Grants Programme (part-funded by the European Regional Development Fund).
Damsels and Dragons – involving the restoration of the Hatchford Brook in Elmdon Nature Park – is one of these schemes and will create a total of 2.80 hectares of enhanced brookside habitat – that's the equivalent of around four football pitches.
To tell us more about this project we spoke to the ecologist leading the work, Dan Hunt.
So Dan, what's behind this work? Why is brook restoration so important?
The focus of the project is a 550 metre tributary of the Hatchford Brook (hereafter referred to as 'the brook') that flows south to north through Elmdon Nature Park, Solihull. The brook then enters a culvert approximately 1.98km downstream before re-emerging a further 300m downstream on the eastern side of Birmingham Airport. This section of the Hatchford Brook was canalised in the 1980's as a response to local flooding. The brook was lined with concrete paving slabs laid to both the watercourse bed and sides over a lean mix concrete base. This in turn led to an absence of natural river processes and a reduced ability to accommodate large populations of wildlife. Solihull Council worked closely with the Environment Agency to design a range of physical interventions to reverse this decline in biodiversity in recent years.
What's wrong with the brook at Elmdon Park? It looks natural already. Which areas within the park are you working on?
Before the project, a section of the brook between the footbridge at Gaydon Road and the footbridge near the playground was much neglected and suffered from channelization which has resulted in a straight channel with steep banks and straight sides, flytipping and pollution from misconnections and other sewer misuse. Damsels and Dragons aims to improve the appearance, water quality and biodiversity of the brook flowing through public land surrounded by high density housing.
This project aims to reverse this hard engineering and restore the brook course to a more natural status. During the restoration works concrete was removed and its banks were pulled back (re-profiled) to recreate a more natural brook channel with shallow meanders. These actions have been designed to encourage the brook to develop natural processes including erosion and deposition which will lead to the diversification of physical features within the channel. It is hoped that the scheme will help the brook to self-cleanse and re-oxygenate, providing much needed urban habitat for wildlife and making the brook more accessible for people.
On completion it is anticipated the project will deliver 550 metres of enhanced watercourse and 2.80 hectares of improved habitat to the woodland, grassland and bankside vegetation adjacent to the brook.
Can you take us through what you'll be doing here please?
The focus of the project is to deliver improved habitat to a section of the Hatchford Brook and associated riparian (brookside) habitats to enhance its wildlife potential. This will be approached in three ways:
No.1. Management of Bankside Trees and Shrubs
Prior to restoration, the brook was surrounded by trees and scrub and heavily shaded and inaccessible along much of the length of the project area. Tree and scrub management has been carried out at a number of locations along the brook corridor retaining trees of good form or wildlife interest. This will provide the necessary age structure to support nesting birds. Increased light levels will encourage the greater establishment of marginal, emergent and submerged vegetation. It will also allow improved access to the brook corridor.
No.2. Concrete slab removal and naturalisation of the channel:
Stage 1 – Prior to re-profiling the brook, the concrete slabs from the stream bed and sides along with the lean mix concrete base were removed using a tracked excavator and dumper. Work was also undertaken to break out and demolish existing weir structures including the concrete bedding where access allowed. In total over 390 tonnes of concrete were removed from the brook course and stored temporarily alongside Elmdon Park Road in a fenced area before being removed from site. Some sections of concrete slabbing and concrete base were retained within the vicinity of the existing land drainage inlets
Stage 2 – Re-profiling of brook course. The existing brook course has been historically canalised resulting in a uniform channel width with steep banks and straight sides. An appropriate sized track excavator was used to improve channel geomorphology. Sections of the banks will be re-profiled using a cut and fill process to provide more of a natural "tick-shape" channel cross section, with a shallow gradient on the outside bank and a steeper profile on the inside of the meander allowing natural erosion and deposition processes to operate.
Stage 3 – Planting of native marginal plant species to attract flying insects such as damselflies and dragonflies, while their foliage will give aquatic wildlife shelter and good hiding places for laying eggs. We should be encouraging species like this as they are great indicators of water quality, choosing clean environments with water high in oxygen and free from pollution. Thus their presence can show if the restoration works are successful.
The natural pool-riffle sequence has been lost and the current channel has a uniform depth and flow. In several areas an excavator was used to redistribute gravel substrates to create areas of pools and riffles. Additional river-washed gravels were introduced where there was a paucity of naturally occurring gravels to aid the creation of riffles, further enhancing the habitat.
No.3. Construction of wetlands / scrapes
The riparian land adjacent to the brook is seasonally wet and heavily vegetated with species such as bramble. As part of the project a series of scrapes (a shallow pond that may dry out during the summer period) and wetland pools were constructed to provide additional off-channel habitat for plant and animal species whilst offering water storage capacity in times of high flow.
How will you ensure that the work area is reinstated?
Recent wet weather and heavy machinery working this section of the brook corridor has left large areas of deep, soft mud – additional signage and sections of barrier tape have been installed to warn park users of the hazard and provide additional information about the brook restoration scheme.
Wildflowers and grasses will be planted streamside along with a range of native trees and shrubs to provide habitat diversification and shading to sections of the watercourse. This will mitigate future increases in water temperatures due to climate change.
We will also install an information panel later on to help people to understand the project and what we're trying to do here. This is an exciting project which will help wildlife and will also improve the look of the park over time.
Anything else we need to know?
Specialist surveys can help to expand the range of species present, both by finding out which species already occur and by identifying suitable lengths for habitat improvements. Surveys for morphology, aquatic invertebrates and water quality have been completed as part of the brook restoration project. On-going monitoring of the site will show if the restoration works are successful.
The collaborative project, funded by the Environment Agency and European Regional Development Fund and delivered by Solihull Council, helps to deliver biodiversity benefits for local users, visitors and wildlife.
Damsels and Dragons along with the restoration of the Kingshurst Brook, Chapelhouse Road, Fordbridge form part of Solihull Brook Improvements project. These projects ran between September and November 2020 with in-channel works completed by early October to avoid the fish spawning season (taken to be from 1 October to 15 June).
Thanks Dan! You can find out more information about these projects here:
https://socialsolihull.org.uk/peopleplacenature/projects/